Construction projects can be a messy thing. Exposure to the elements, foot traffic, tool use, and proximity to unpaved roads and driveways all generate huge amounts of dust and debris. Homebuyers and homeowners can often be taken aback by all of the dirty clutter when checking the progress of their projects. While a construction project will never be spotless, it doesn't have to be messy, either.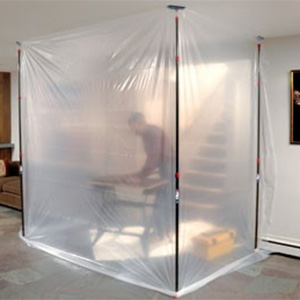 ZipWall is the industry standard for Dust Containment
Using
ZipWall's systems of poles, zippers, and temporary doors
, jobsite dust can be nearly eliminated. Ideal for office and residential settings, local homebuilders regularly stop in to pick up ZipWall products due to their effectiveness and their ease of use. The Zip-poles have a spring loaded quick telescoping system to easily expand to the height or a ceiling. Temporary doors use mild adhesive tape to stay in place, and the zippers quickly attach to plastic sheeting with an adhesive backing. ZipWall makes using plastic sheeting to control dust extremely quick and hassle-free.
In addition to ZipWall, we carry an extensive line of dust control solutions. Shoe covers, walk-off mats, vent covers, negative air machines,
and more can be found on our website
. To learn more about ZipWall, or any other Dust Control products, email us at sales@buildsitepro.com, call us at 541-633-7793, or visit our website www.buildsitepro.com