A new home in Bend, Oregon - where we're located - has officially been the first single family home in the country to meet the rigorous
Living Building Challenge (LBC)
standards. Going far beyond LEED Platinum, the LBC standards are effectively the gold standards of green building.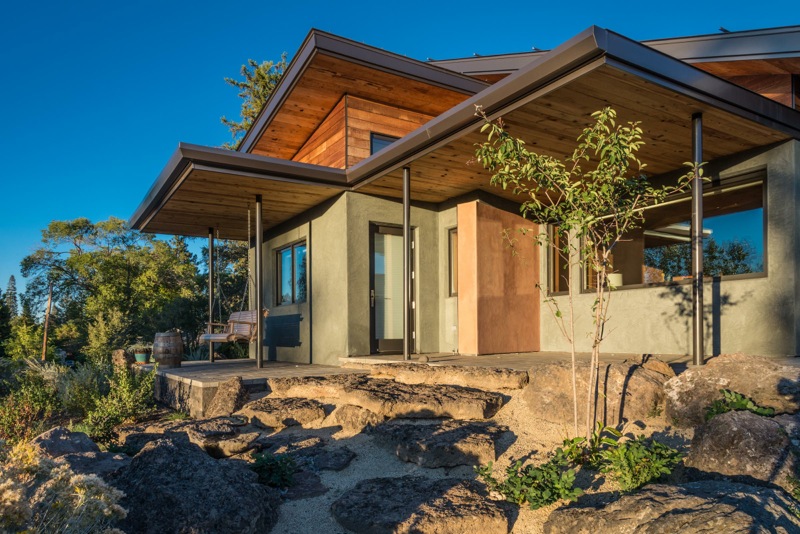 The Living Building Challenge (LBC) is a set of rigorous standards designed to be at the forefront of technology and green building innovation. The LBC has been set up to push development of these building technologies in the hope that they will become mainstream and cost-effective in the near future. Whereas LEED standards attempt to slowly bring mainstream buildings towards a greener composition, LBC attempts to dramatically push innovation for a very small number of structures, becoming an exercises in envelope-pushing engineering, architecture, and design.
This house - named Desert Rain - must be a net producer of energy and water, and cannot rely on any outside sewer services. Using solar and rainwater collection, the structure is completely self sustaining, without any impact on the environment. "Greywater" from showers and sinks is naturally filtered under the house without the use of chemicals, essentially using natural permeation to clean and recycle water. To cut down on the impact of material transport, all materials must come from within 1,500 miles, one-third of which must originate from within 300 miles of the structure. Stucco and interior walls were made from a local combination of sand, lime, and clay, avoiding drywall and other manufactured products.
As one would expect, the unorthodox building process for this 5,000 sqft house did come at a high price. Totalling $3.48 million, Desert Rain boasts a $638/sqft cost. For now, Desert Rain exists as an monument of what is possible, and what will become the new normal decades from now.
To learn more about the Desert Rain project, check out OPB's website here
.